Elegant Brindles
Brindle is the most dominant color in the breed and in recent years has enjoyed a great deal of popularity, but under the Breed Standard there is no preference between colors.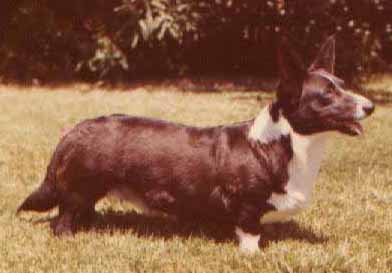 American & Mexican Champion Aelwyd Foxglove Of Dorre Don, CD
Ch. Sirax Apollinaris Cori X Ch. Dorre Don Serchus Of Winsdown, UD
"Vixen" our foundation bitch was one of the top winners in the breed on the west coast in the 1970's. She was Best Brood Bitch and Best Veteran Bitch at the first specialty show of the Cardigan Welsh Corgi Club of Southern California (CWCCSC). This picture was used to illustrate the breed standard in "The Original Complete Dog Book" (TFH Publications). Vixen was a lovely black brindle.

Champion Aelwyd Flaming Dragon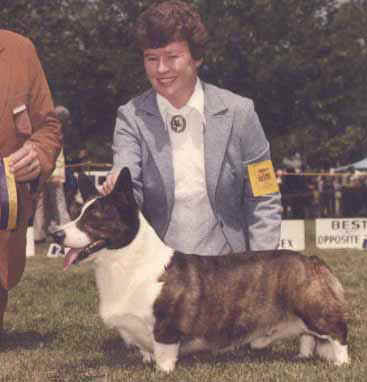 Ch. Dorre Don's Incorrigible, CD X
Ch. Aelwyd Foxglove OF Dorre Don CD
Our first home-bred champion stud dog, Dragon was a son of Donner & Vixen. Born in 1978, he finished his championship from puppy class at the age of 10 months and produced a son that did the same. Dragon produced a champion in every litter he sired.

Champion Reese's Intimate Suggestion - ROM
"Zorra" is a daughter of Am/Can. Ch. Reese's Bold As Brass, a Best In Show winner once the top winning male Cardigan of all time. Zorra has 8 champion offspring and a multiple Group placer to date. She won an Award of Merit at the CWCCSC specialty and made the cut in BOB at the 2007 National, as did daughter Serafina.
Champion Aelwyd After The Fox
Ch. Cheysuli Jumpin' Black Flash x
Ch. Reese's Intimate Suggestion
Zorra's daughter "Serafina" finished from BBE at 12 1/2 months. Littermates Ch. Aelwyd Little Fox Of Escher and Ch. Aelwyd Amazing Flying Fox are also finished.
Champion Aelwyd Doņa Ana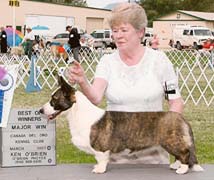 Ch. Aelwyd Just Tri It x
Ch. Reese's Intimate Suggestion
Doņa Ana finished with 4 majors, 4 major Reserves, twice BOS over Specials, 1st in her Sweepstakes class at the CWCCSC specialty, 2nd in her Sweepstakes class at the 2007 National Specialty. Doņa Ana produced a lovely litter by Ch. Cheysuli Jumpin' Black Flash in February 2010! See handsome LOKI on the Black Beauties page.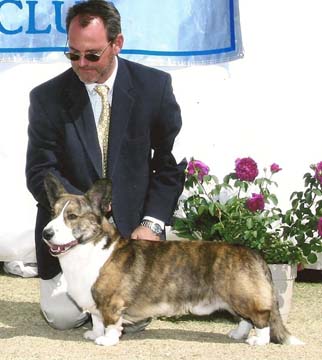 Champion Aelwyd El Milagro
Ch. Aelwyd Just Tri It x
Ch. Reese's Intimate Suggestion
Rhys: WD at his first show, 4 point major at a supported show at 6 1/2 months, 2 more majors and finished at the age of 10 months, 3 times BOS over champions, Best Puppy In Group, 2nd in his National Sweepstakes class. He has won FIVE Group placements, Award Of Merit at both the 2008 & 2009 CWCCSC Specialties, all owner handled by Charles Gajda.
LIKE FATHER, LIKE SON!
Canadian/American Champion Aelwyd Watch For Me By Moonlight
Ch. Aelwyd El Milagro x Ch. Aelwyd Lemony Snicket


"Duncan"
Always handled by owner Lynne Ragsdale, Duncan finished his Canadian championship from the 6 to 9 month puppy class and his American championship with all major wins including the excited - and exciting - phone call from Lynne that Duncan finished with Winners Dog at the CWCCA National Specialty. A five point major for sure, we don't have a count of absentees but there were 68 males entered. WOW!