Call Me "POND SCUM"
On a lovely spring day in 1992 we got a phone call from Sue Bain, one of Canada's top dog show handlers and the owner of Cobol's litter brother Cali. "Cali has just won back-to-back Best Puppy in Group, it's a breed first!" Soon the photos arrived in the mail with a note from Sue, "Here's Cali's BPIG!" I ran to the back yard with the photos to show them to my husband Ron, the silent half of this operation.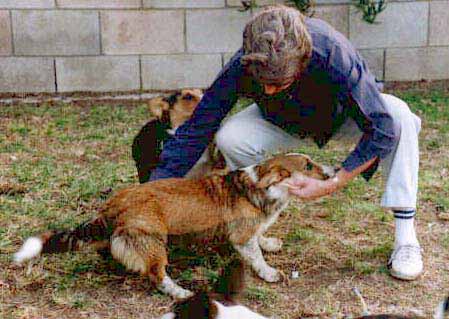 "What's a BEE-PIG?" he asked. "That's Best Puppy In Group" I told him. "Well, HER puppy may be a BEE-PIG," he said, "But the one you kept looks just like POND SCUM," as my Cobol crawled out of the fish pond, where he'd been snorkeling for goldfish, with a green scum line along his ribs.
Well, so what if he did! The gorgeous puppy that looked like a show dog from his earliest days was the one we sent to Sue. The rough-coated, raw-boned, slightly klutzy puppy with his father's bone, the one I hoped would be a breeder's dog, was the one I kept at home. At times I questioned my choice as I showed him in puppy class without a single win. Friends and family and friends of the family heard his nickname and soon others were starting to call him "Pond Scum."
Then I was invited to judge the Canadian National Specialty Sweepstakes that summer and I took Cobol along for a show circuit after the specialty was over. I watched his gorgeous brother Cali win Best of Winners and Best Puppy and finish his championship at the specialty and I was so proud of having bred Cali, but I wondered again about my choice.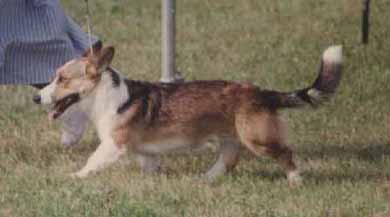 And yes, I had made the right choice. Cobol won his own BPIG in his two weeks in Canada that summer, and all but one point for his Canadian championship. Back home again, he did the same with a rush, one four and two five point majors in less than two weeks. He went back to Canada with co-breeder Charlie for his final point there, then won his last point back home again in October for both titles from the Bred-By-Exhibitor class by the time he was 15 months old.
He sired some pretty puppies and in 1994 we went back to Canada for another National Specialty. His son Gus was Winners Dog at the National from puppy class and finished his Canadian championship in only five shows, then at home, his American championship in 12 shows. He won Best Of Breed over specials and was pulled in Group in both countries.
Cobol, still growing up, was High Score in Specialty at that Canadian National, and High Scoring Corgi (Cardi or Pem) next weekend to finish his Canadian CD in two weekends, even with my yelling "Yo, Pond Scum!" for his recall across a noisy hockey arena.
Back home again Cobol started the new year with High Score in obedience at the California specialty, then at the supported show the next day he won Best of Opposite Sex to the top winning Cardigan of all time, while his puppy daughter Vixen won a five point major at her second show.
1995 was a great year for our boy. Vixen his daughter, won Best Of Breed and her second major while she was still six months old. She had won three majors and 13 points by the age of nine months, finished her championship, was moved up and won Best of Opposite Sex over a Special while still in puppy class.
In the summer we went back to Canada. A week of camping on Lore Bruder's working cattle ranch in Pincer Creek in the shadow of the Rocky Mountains made a wonderful vacation before the serious business of the first Canadian specialty to be held in the west.
On the specialty weekend itself The Great Pond Scum was Best In Specialty and Best of Breed at the Alberta Kennel Club show; those two wins ranked him # 7 Cardigan nationally for the year. And early in 1996 we received word that Pond Scum's Group placement and Best Of Breed wins in the U.S. had earned him a Canine Chronicle Top Ten rating for the first two months of the year. Way to go, Pond Scum!!!
That summer Cobol sired a litter out of Redbud's Birthday Cake (Cocoa), the dam of one of the top winning Cardigans in the U.S. In 1997 three of those puppies were major pointed from puppy class, including Ch. Desiree, the daughter we kept at home, and Becky, his second big winner at the Canadian National Specialty. By 1999 Cocoa's offspring by Pond Scum made her eligible for the national club's Register Of Merit (ROM).
So around our house, one of the nicest things you can say about a Cardigan is - "That dog looks like Pond Scum!"
HAPPY BIRTHDAY POND SCUM
July 27, 2000
On the occasion of his 9th birthday The Great Pond Scum
was still up to his old tricks. So much for the recently restocked fishpond!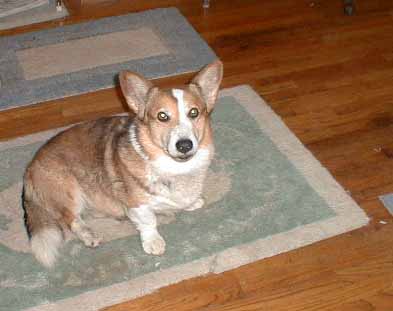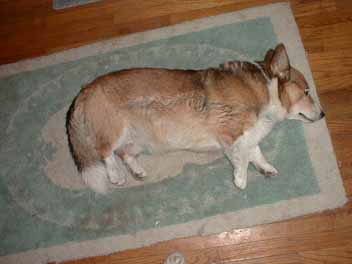 HAPPY BIRTHDAY POND SCUM
July 27, 2001
On his 10th birthday we learned that his fame had spread to Illinois!
He celebrated his next three birthdays at our gorgeous new place in Tucson. We lost him shortly after his 13th birthday.
Am/Can. Champion Aelwyd Pirate Program, CD
July 27, 1991 - August 17, 2004.
May we meet again...