Cardigans are intelligent dogs filled with personality and a sense of humor. This is not a breed that should be kept in a kennel environment, they want to be with their family members and involved in activities. In their native Wales, Cardigans were working farm dogs and their duties included moving the livestock - usually cattle - from one place to another. In recent years there has been a revival of interest in the traditional role of many breeds, Cardigans among them, and our national specialties in the U.S. and Canada now include herding activities whenever sites and livestock are available.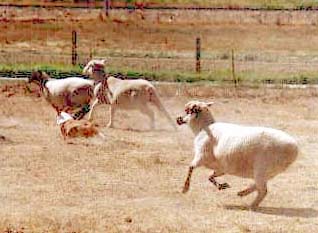 Our grand old man "Percy" as a young dog, working my sister-in-law's sheep on her farm in northern California.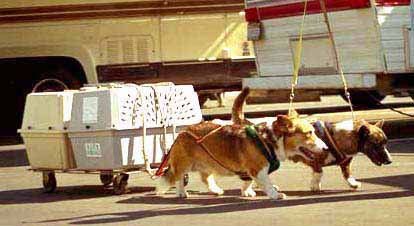 After hauling my cart and show gear to ringside for years I finally wised up and trained Pond Scum and his granddaughter ShadRoe to sled dog harness.
But having fun is as important as working, so we take our dogs on camping trips like this memorable canoe trip to an island in Georgian Bay where we cooked over an open fire (because the Primus stove wasn't working), I lost the biggest fish of the trip because of a poorly tied knot and the young dogs lost most of our fishing worms - after rolling in them.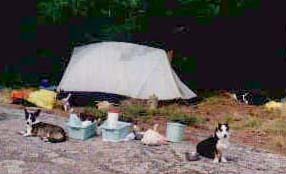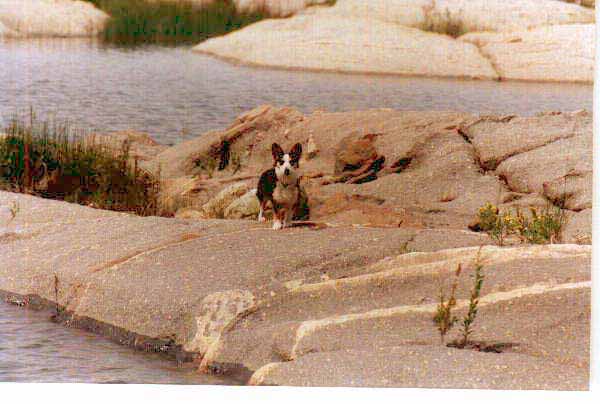 What if you don't have a farm, or a canoe or a sled dog harness? There are still many activities you can enjoy with these wonderful dogs of such perfect size. We always recommend obedience training, whether for simple household manners or advanced competition. Tracking is a very specialized form of obedience and many Cardigans hold advanced tracking titles. Pond Scum's son "Bertie" began his tracking training as a puppy and was successfully following a track at the age of four months. There are other structured events such as flyball or agility or you can just go for a walk in the park and have a game of catch in the yard. The important thing is that you and your dog enjoy activities together.