Inquiries are always welcome for our planned litters. When you contact a breeder, be prepared to answer questions about yourself, your family, your living arrangements and lifestyle. In addition to helping the breeder find the best match for you, this indicates to you that the breeder is someone who cares what happens to his or her dogs. Dogs and other living animals are not toys or objects to be picked out on impulse, then put in the back yard or discarded when someone grows tired of them. Getting a dog should be viewed as adding another member to your family and you should have a firm commitment to providing a loving home for it for the rest of its life. Puppies go through teething and housebreaking, older dogs may have developed habits you want to change, these are part of living with another creature and making it a part of your family.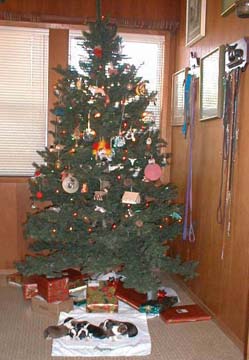 When you take home one of our puppies it will have been raised in our home, underfoot, handled and socialized. It will have had all shots and health care appropriate to its age and it will be microchipped. The puppy will have a lightweight leash and collar and, if you are picking it up, a supply of its normal food that will last for the first few days. We send home a comprehensive Baby Book or "owners manual" with answers to many of your questions plus feeding instructions, housebreaking and training tips, pictures of the parents, pedigree of the puppies, and a complete health record. Our sales contract contains written health and temperament guarantees. All of our dogs are clear of the recessive gene that causes Progressive Retinal Atrophy (PRA) a condition that eventually leads to blindness. If you ever have questions or experience training or behavior problems, we are as close as your phone or modem. We hope the transition from our family to yours will result in a long and lasting friendship.
No Puppies this year, so I've been killing time, so to speak, writing mystery stories. The "Murder at the Dog Show" series is available at http://www.amazon.com/. See my "Books" page for more information.